Welcome to Legal Access Plans
At LegalEASE, we have been providing Americans and their families the best legal plans and employee benefits for over 44 years. We've got members covered with the best legal insurance plans, the most comprehensive network of lawyers and specially designed help. Whether it is a real estate closing, estate planning need, or a life changing event, we're here to help every step of the way. Legal Access | LegalEASE, providing peace of mind, since 1971.
Enhance your company's benefits portfolio with the new LegalGUARD Plan, an insured product underwritten by Nationwide®. Contact us to learn how legal insurance, as a voluntary employee benefit, pairs with your internal wellness programs and reduces employee stress and absenteeism.  Obtain the most effective group prepaid legal plan on the market for your clients or employees. The comprehensive plans and products provided by Legal Access and LegalEASE utilize unique personalized and concierge assistance that saves employee time and reduces stress during a legal event.
Meet Patricia and Michael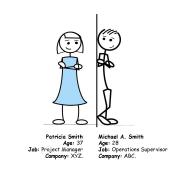 Everyone has the need for an attorney periodically throughout their lifetime. Find out why the Legal Access Method helps the end user and their employer. 
Becoming a Member

Becoming a legal plan member has many benefits, with the biggest being peace of mind. If you are considering enrolling in one of our legal plans, click here to learn the benefits.